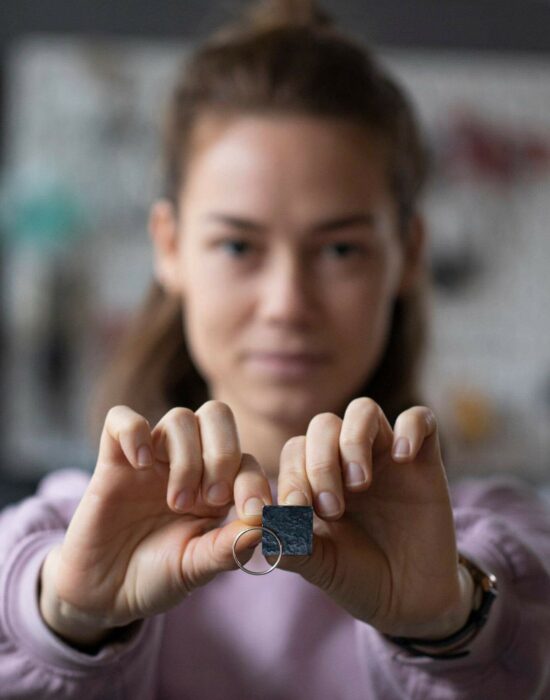 366 brooches
"Starting this year I decided to give myself a challenge – to make one brooch each day. A project called "366 brooches".
This is a story not just about the jewelry itself. It is a story about self discipline, time management, work culture and testing the boundaries of creativity." So Una Mikuda wrote in her Facebook account in the beginning of 2020.
Una Mikuda is a young jewelry artist who graduated the Art Academy of Latvia, Department of Metal Design, master's program in 2018. Already during her studies Una showed talented and purposeful characteristics. One of her best qualities is punctuality. All this allowed her to achieve the goal of creating one brooch for each day of the year 2020.
In the summer of 2019, the Art Academy of Latvia celebrated its 100 year anniversary with the motto "Not a day without a line". The motto is borrowed
from the book of the ancient Roman historian Pliny the Elder, which refers to the Greek artist Apelles, who devoted every day to art and creative activities, explained Andris Teikmanis, Vice-Rector for Studies and Research at the academy. The idea of ​​systematic creative activity turns out to be at least as old as ancient Rome. Examples can also be found in Latvia. Ceramist Aira Lesiņa created one unique porcelain tea cup every day throughout 2018, while graphic artist Guna Poga created one sketch every day in 2017, which was published on her Instagram account. But Una could say about the last year – "Not a day without a brooch".
By the end of the year Una wrote: "DONE!!! 366 brooches are done! Every day of this year has its own brooch! How cool is that?!
This BIG challenge that I gave to myself has turned out to be one of the best experiences in my life! Both – mental and physical. This isn't just a story about nice jewelry. This is a story about dealing with self discipline, time management, self motivation, expanding the boundaries of creativity, searching of new technical solutions, materials. "Thinking out of the box" kind of story.
Square – such a simple form, but with endless interpretations.
Through this project I have come to a conclusion – there is no such thing as a Muse! No need to wait for it. Just a never ending process of creation – thinking, working, searching, wandering. The more you create, the more you will be able to create! And now I know for sure – anything is possible!"
All brooches can be viewed on both Unas Mikudas Facebook and Instagram accounts. They are really great, interesting, so diverse, but realized in a unified format.
Text – Ginta Grube 2021/02/15
Photo – 31/12/2020, Brooch No.366 "The Golden end"