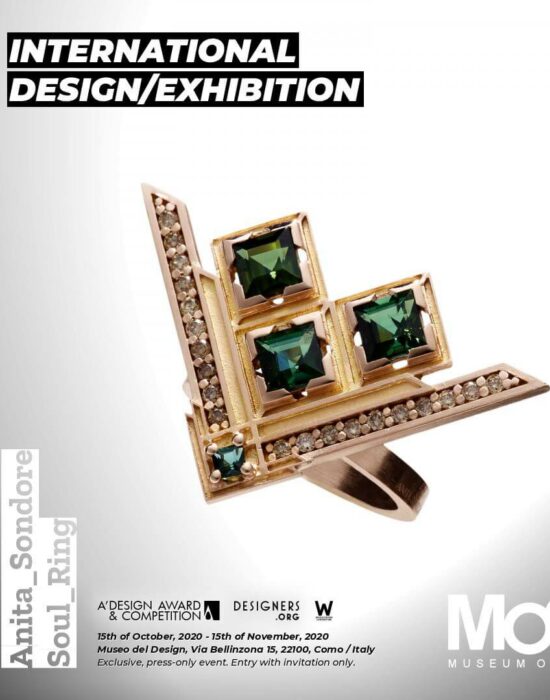 International Design Exhibition
Anita Sondore (Latvian Jewellery Art association member) has been invited as a speaker at A' Design Award & Competition.
Anita Savica is a Latvian jewellery designer and owner and Creative Director of Anita Sondore Ltd.
She is the recipient of many international awards and has showcased her designs globally.
Riga based jewellery designer ANITA SONDORE creates trendy Fine Contemporary Jewellery. All pieces are designed in Latvia, produced in Italy. At the heart of the brand is the distinguished Roman school of jewellery, where the creator of the brand developed her mastery with the Ermini family, as well as with the Parisian brand, Van Cleef & Arpels, Le Arti Orafe Jewellery School, Firenze, Italy. In the Year 2017 Anita advanced her skills by obtaining Master's Degree in Jewellery Design at Arts Academy of Latvia.
Fine Jewellery created by ANITA SONDORE is bold and beautiful, inspired by the opulence of Northern Europe's imperial cultural heritage but interpreted with a modern sensibility. Luxury, unique rings, earrings, pendants and necklaces, all handcrafted in 18k gold, enriched with sparkling diamonds, make a powerful statement about the women who wear them.
"My jewellery, in a fairly direct way, tells my own story – it's a mirror of the time. They are personalities, individuals, living, breathing, ringing, with an idea, with a message from the heart," explains Anita.
The key message of the ANITA SONDORE's brand is – the court painter. Since the past days, court painters have been those that have recorded important historical events, faces and moods. Today, ANITA SONDORE continues to do this- to present today's people, events, faces and hearts.
Currently ANITA SONDORE jewellery is available at Harvey Nichol's Luxury Department Store in London, Mozafarian Jewellers' Boutiques – Dubai, Simonelli studio in Rome, Italy, Grand Hotel Kempinski and Grenardi in Riga as well as private collections all around the world.
Information from http://ahmedabaddesignweek.com/
About the event
 From 15th of October 2020- 15th of November, 2020, Museo del Design, Via Bellinzona 15, 22100, Como/ Italy.
A' Design Award and Competition aims to highlight the excellent qualifications of best designs, design concepts and design oriented products. A' Design Award and Competitions are organized and awarded annually and internationally in multiple categories to reach a wide, design-oriented audience.