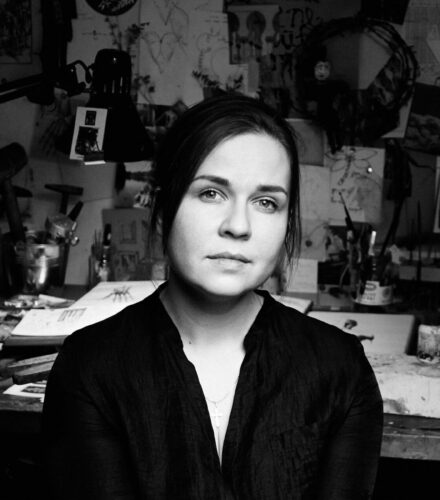 Maija Vītola – Zitmane
Maija Vitola–Zitmane – born in 1988. Graduated from Janis Rozentals Art Highschool, Acquired her Bachelors (in 2015) and Masters (in 2017) degrees at Art Academy of Latvia, Metal Design Department. Her professional knowledge and practice is supplemented by various courses. Currently active in the jewellery art field – developing her own jewellery brand, participating in local and international jewellery and design competitions. In 2020 she received prize from the Latvian Fashion and Style Awards in nomination "Best Contemporary Jewellery Designer of the Year 2019". The creative process is her inner need, without which she cannot imagine her daily life.
The jewellery created by Maija is characterized by subtle handwork and a delicately intimate message. Maija focuses on the human inner world, where in addition to the highest basic values – love, respect and devotion – there is also willingness and lust. She finds inspiration for her work in the course of a human life, the experience gained in it, the fundamental values that layer by layer makes the jewel something valuable.
"Mainly I am working with natural materials such as bone, horn and wood combining them with silver. I create sculptural art jewellery that becomes a link between my perception of the world and the viewer. There have always been many symbols in my works – this is the way how I express my feelings. The choice of material depends on the purpose of the work, but often when I'm carving material by hand it feels like the material tells its own story, allowing me to create works that are unique and sculptural representations of my world."